Definition: A selvage is a "self-finished" edge of fabric, keeping it from unraveling and fraying. The terms selvage and selvedge are a corruption of "self-edge", and have been in use since the 16th century.

Successful Uses of Selvages: So many, your imagination is the limit. One can create and design new fabric. There are also sturdy applications such s for upholstery, home decor, quilts, bindings and bags.

How long does it take cotton to decompose? It depends on sunlight, moisture and usage. If buried in soil, maybe 10-30 years. If dry, maybe years or never. So, why not make something out of the edges rather than just having them up in the landfill?

Harvesting Selvages: Most people start with a 1.5 inch of the fabric above the beginning of the selvage. It is best to create a storage container to keep your selvages in, such as a basket, container, jar, or anything of your choosing.

Begin your Project: It is fun to do and much more fun if you have an idea or plan of what you want to do. Check the measurements of your project for piecing sizes. You can use paper piecing or fabric backing.

Create your Fabric: Determine how much or little of your fabric you want to show. Overlap to catch the top edge and secure the bottom edge. Double check to make sure you catch all seams as you go. Sew and square up your block or fabric piece as needed by your project.

Endless possiblilities! Have Fun!!
Thank you to Melissa Corry, Pinterest, Becca at Bryan House Quilts and Etsy for help with our presentation.
Doll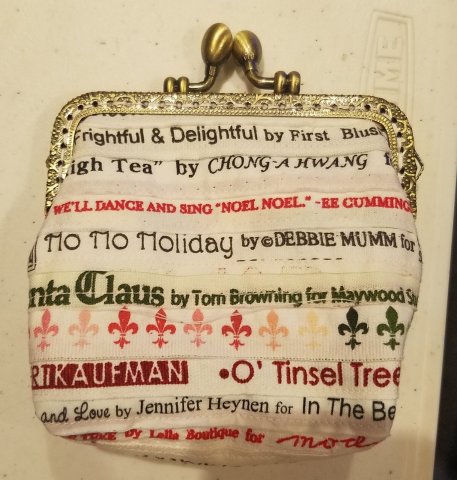 Coin purse
Basket
Bag
Pillow
Pillow
Chair Seat
The chair was purchased at a local thrift store. The seat was recovered in the selvages fabric.
Pillow
Pillow
Wall Hanging
Wall Hanging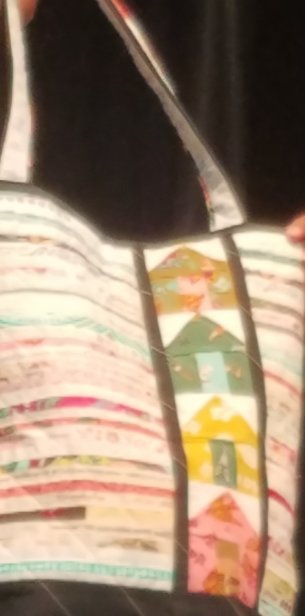 Bag
Wall Hanging
Bag
Sewing machine cover
Apron
My apron with bead embellishment needed a face lift - so selvages were the answer. Removed the pocket and put it back on to finish.
Wall hanging
Quilt
Pillow
Quilt
Quilt
Quilt
Book Marks - One was given to each person in attendance at the Guild Meeting on Saturday, January 11th