Our business year runs from September to the following August with a meeting held all months except July and August (for summer break) and then December (for a Christmas activity).  We usually meet at the Electric Theater located at 68 East Tabernacle in St. George.  Our October meeting will be held on the 3rd floor of the Children's museum on 100 South and Tabernacle.  Occasionally we will go to another location.  Our meetings give us a time to meet for Guild Business, have a Program on quilting, as well as time for members to 'Show-n-Tell' about projects they have worked on.  Membership offers many benefits (see the Membership Tab), including opportunities to meet others at meetings, join a Friendship Group, and serve as a volunteer in Guild positions. Visitors are welcome at our meeting – come and see what we have that might interest you! Take a peek at one of our meetings:
     We hope you enjoy these quilts made by Guild members that were displayed at a recent meeting.
Activities & Events Overview
There is an activity for everyone. Each is designed to provide a learning experience and a lot of fun for our members.
Block of the Month
Each year we have a Block of the Month program starting in January running for 6 months. Each month a drawing and door prize will be given at the Guild Meeting for those who have completed their blocks that month. At the September meeting everyone will be able to show their assembled quilt top.
Quilt Show – Gems of the Desert
The Dixie Quilt Guild sponsors the Gems of The Desert Quilt Show.   Our next show will be held April 8 and 9, 2022 at the Dixie Convention Center in St. George, Utah.  There are over 300 entries that showcase the beautiful quilts made by our members.  
Sew Simple Retreat
Each year members of  the Guild go to Springdale, Utah for a fun retreat.  We lodge in a hotel and have a great time quilting together.  This retreat is a great way to get in some bulk quilting time and have fun with Guild Members.  The annual Retreat is usually held in February, with information  announced in the Fall during Guild Meetings and is also published in the Newsletter.
Charitable Opportunities
The Guild members work with charities and groups to help others outside our area. We have supported Sew Much Hope, Hobbs Charity and other giving programs. Our Philanthropy group, noted below, also is a large charity work. Members are able to participate and support charity functions in many ways.
Philanthropy Group

The goal of Philanthropy is to make a quilt that brings comfort to people in need.  This includes young children, adults that are grieving, ill, abused, had homes destroyed, orphans, and veterans.  Organizations that have received quilts include the Dove Center, Youth Crisis Center, Dixie Regional Medical Center, Veterans Home, Orphanages, Police and Fire Departments and many others.  Members help by working on kits that can be picket up a a Guild Meeting.  These quilts vary in size and range in skill level from beginner to advanced.  There are also quilts that ned to be machine quilted.  All materials are donated to the Guild and all labor is donated to make the quilts.  Once they are completed, the quilts are donated to a variety of sources that help to bring comfort to many, from young to old, to provide the comfort needed in difficult times.
Show & Tell

A part of each Guild Meeting is a Show and Tell where members can bring a quilt or project they have worked on to show-off to others in the Guild.  It is amazing to see the beautiful quilts, wall hangings, bags, and other items that are created by members of the Guild.
Friendship Groups
Friendship Groups are groups of Quilters from our Guild who get together monthly to socialize and/or work on projects. Groups are usually 6 to 10 quilters. The Group decides when to meet and what they want to work on when together. Some groups just do show-n-tell and share what they have learned. The members of these groups become good friends and often expand their activities beyond just quilting.
Monthly Meetings
 The Guild has a meeting most months of the year.  Our Fiscal Year is September thru August with our Fall meeting in September, a Christmas Luncheon in December.  We do not have a meeting in July or August.  Most of the meetings are held at the Electric Theater in St. George, but may occasionally be held at another location.
Workshops
Workshops are available to all Guild Members with a nominal cost for the class due at time of registration which covers the cost of kits and supplies.  Some months the workshops are geared towards beginning quilters and some are for the more advanced quilter.  All Guild Members are welcome regardless.  The workshop is intended to be a fun social gathering and a chance to learn from each other. The workshops are usually held on the third Tuesday of each month, but may be held the Friday before a Guild Meeting. Location may vary – but will be announced.  Once a member signs up, a supply list will be sent to by email. A great day of learning and fun with friends.
Block of the Month is not being held in the 2021-2022 year since we are preparing for our Quilt Show in April 2022.  The last Block of Month provided a pattern each month for 6 months to any member that wanted to participate.  Participants were able to choose their own fabric and colors. They could create an item with only 6 blocks, or add additional blocks, it was up to them. In creating the quilt, the layout of the blocks was also up to each person. There were many who participated and some have agreed to have pictures of their quilts or quilt tops displayed here.
We all enjoy the variety of the finished projects. Even using the same patterns, it is interesting how color and layout make the quilts look so different from each other. We hope you enjoy and appreciate the work that goes into these beautiful quilts!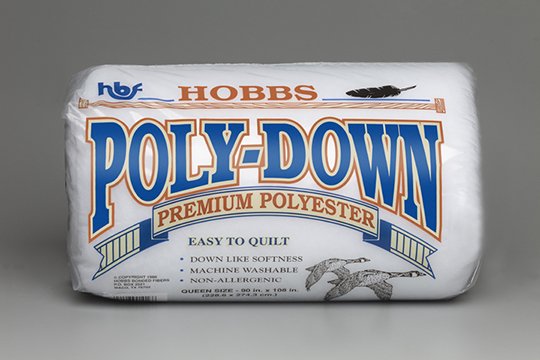 Hobbs Batting Charity Program
Hobbs provides free batting for charitable purposes. Please save your UPC labels from packages of Hobbs batting and turn them into Bruce Bussey or Susan Mapston to be used for philanthropy.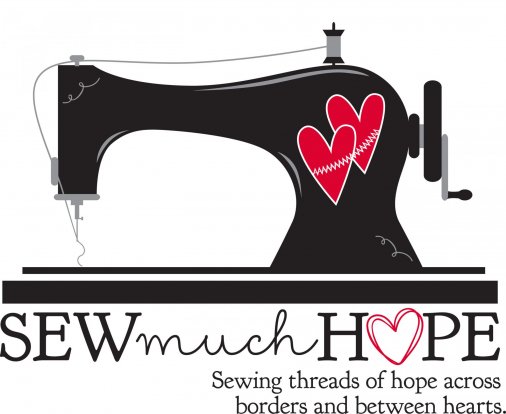 Sew Much Hope Charity
A special thank you to Jina Barney and Moana Burgess of Down Under Diversions for our November 2017 program. They gave us a history of their friendship, and quilting through the years in a trunk show; how they acquired the former HMQS and renamed the show the Utah Quilting and Sewing Marketplace; and, how they came in contact with the Sew Much Hope Charity.
From their website SewMuchHope.org: SMH helps to restore hope and balance to communities abroad devastated by war, genocide and poverty working closely with other organizations, governments and communities to develop creative solutions and programs that allow the poorest of the poor to earn extra income, start a micro-business, or simply mend clothing and improve living standards for their families. ...We work to outfit durable machines from the 1940's—1950's with hand cranks or treadles to be used in rural communities without access to electricity.
Anyone wishing to donate a machine to Sew Much Hope can take it to Rene Hall's home at 1075 S 960 E. Enter from 900 South and go down the lane to the end where you will see a box for UPS & FedEx. You may leave your donation in that box and Rene will make sure that they are picked up by the driver for the charity.
About the Dixie Quilt Guild
Us

We are a group of over 200 members with a passion for quilting, based in St. George, UT.
Our goal is to encourage, promote and preserve the art of quilt making.
Through Guild Activities, we strive to inspire one another, share tips and techniques, celebrate achievements, improve skills and enjoy the camaraderie and support of fellow quilters.


You
The Guild
Benefits
Dues
Policies
Quilting Shops and Services in the Surrounding Area
Clover Patch
2721 Santa Clara Drive
Santa Clara, UT 84765
435-986-9070
Offer: Fabric, Notions, Classes
Quilted Works
140 N 400 W
St. George, UT 84770
435-674-2500
Offer: Fabric, Thread, Notions, Machines, Classes, Longarm Quilting
Superior Threads & Mother Superior Fabrics
87 E 2580 S
St. George, UT 84790
435-652-1867
Offer: Fabric, Thread
One Wild Stitch
435-590-1694
Offer: Longarm Quilting Services by Cathie Purdy
Scrap Apple Quilts
144 W Brigham Road #23
St. George, U&T 84790
435-628-8226
Offer: Fabric, Thread, Notions, Classes, Longarm Quilting
Teryl Loy Enterprises
terylloy.com (check out the web)
St. George, UT 84770
435-819-4159 (call to make an appt) Offer: Fabric, Thread, Quilting Templates, Quilting services by appointment
Pins & Needles
pinsquilting.blogspot.com
pinsquilting@gmail.com
435-669-6742
Offer: Longarm Quilting by Dona & Carey
Sewing & Quilting Center
779 Bluff Street
St. George, UT 84770
435-628-4069
Offer: Fabric, Thread, Notions, Classes, Longarm Quilting
2 Quilting Bees
2quiltingbees.com
435-680-7902
Offer: Longarm quilting services by Sharon Rawlings
Stitchin' It Up
117 N Main Street
Cedar City, UT 84720
435-586-6300
Offer: Fabric, Thread, Notions
Simply Quilts and Crafts
190 E Mesquite Blvd, Suite F
Mesquite, NV 89027
702-346-2180
Offer: Fabric, Thread, Notions
Christmas Goose
2988 S Durango Dr, #109
Las Vegas, NV 89117
702-877-1158
Offer: Fabric, Thread, Notions, Classes
Sew Yeah Quilting
3690 N Rancho Dr
Las Vegas, NV 89130
702-586-8687
Offer: Fabric, Thread, Notions, Classes, Machines
Quiltique
213 N Stephanie St
Henderson, NV 89074
702-563-8600
Offer: Fabric, Classes, Sewing & Quilting Supplies
Sew Little Time
6360 W Sahara Ave
Las Vegas, NV 89156
702-450-6766
Offer: Fabric, Thread, Notions, Machines, Classes
This resource is an on-line quilting help page. Sites listed here have been found helpful by Guild Members. Suggestions for additional sites are welcome! If you have a site you would recommend to others, please send an email to Trudy5407@gmail.com Enjoy!
Listed in Alphabetical Order:
bunnyhilldesigns.com – Bunny Hill Designs – the creator of this site frequently shares a block of the month free of charge for a pattern she is designing.  Sign up for her blog on this site.

cozyquilt.com – Cozy Quilt Designs – featuring "Strip Club"!  Don't worry, they mean 2 1/2″ fabric strips

henryglassfabrics.com – Henry Glass Fabrics offers a very generous number of free patterns.

inspirationsmagazine.com.au/ – Inspirations Magazine (printed in Australia). While a bit pricey, the magazine contains such beautiful pieces of needlework of all types (serious eye candy).

jordanfabrics.com   –  Jordan Fabrics with Matt and Donna Jordan offers tutorials, instructions, patterns, etc.

mansewing.com – Man Sewing with Rob Appell – we have used his tutorial for a scrap bag and pin cushion project.

missouriquiltco.com – Missouri Star Quilt Company with Jenny Doan offers tutorials, instructions, etc.

onpoint-tv YouTube Channel – OnPoint Tv with Nancy Roelfsema offers lessons, tutorials, etc.

thequiltshow.com – The Quilt Show is an online 'television' series that provides a wealth of information.  While they offer some free options, an annual fee provides access to their past shows, block of the month and many more educational activities.